Kai Reimer-Watts & Richard Watts
Mixed media online exhibition
January 6th to February 14th, 2021
Online Reception
Date: Wednesday, January 20th from 4pm-5pm
Introduction
"My father is"
My father is
a hole in my heart
the hands that cradled
a new tree, gas-guzzling engine
breaking out into a half-crazed smile with brown pipe
locked between two rows of yellowed teeth
My father is
a violent storm
tearing open my world of complacency
demanding action, attention, retribution on
a violent world
that is more harm than good
continuously harming us
the only balm a steel ark in a man-made forest
that no-one can get in
Except me and my community of butterflies
we flutter around amusing him
as he sips strong whisky and sits by a glowing fire
My father is an alchemist, who knows how to bring out the amber glow in
everything
in the skin of a tree
in his own eyes lit by the firelight
in an overly-dull world lit only by yellowed streetlight
he'll compose an orchestra of spirit-dancers
and set them free
here in southern Ontario
A dried up patch of land he calls Crowe River
assaulted by tinder-dry summers, a changing climate
parched trees with skin like drying parchment
My father wants to die
hang himself out on the line like a drying fish
let the sun create dappled patterns across his flesh
sear old wounds
elevate him above the misery of a vicious world
relieve the pressure in his head, and on his wallet
My father wants to be taken back
to a distant dream of a world that loves
that does not treat you like a ledger in someone's book
renovating your million-dollar Toronto fortress
make your numbers and be forgotten
make your children who are then too busy "saving the world" to slow down and
save their father
Is it up to me to save my father?
Hook up the tailpipe and blur your eyes to the gentle flow of gases and it could all
be over so easily
dragging this old body into the sunshine where it can be admired by passers-by
this ancient oak tree skin
luminescent
the amber glow revealing etches of history
"What a beautiful piece," a couple might say years later, admiring the artist. "I wonder who made it?"
And somewhere
deep in the amber forest
grows an old oak tree
magnificent, forgotten
towering crooked to the wind
just like my father
-Kai Reimer-Watts
Exhibition Statement
This two-person online exhibition shares work that centres around the urgent need for facing our deepest compounding human-made crises, including climate change, inequality and a global pandemic, through Reconnection. These intersections are explored in Earth Etching sculptures which honour the earth, poetry, and video stories. People emerge to share stories and catalyze action, while the voice of the earth grounds us in the reminder that we are inseparable, calling us home to action.   
In this world, time passes more slowly – and more quickly –  than you could possibly imagine. Are you paying attention? As we were waiting, possible futures emerged – flashing their promise, their vitality, their colours – and were either lost or taken. This is how history – the future – has always been written; it is far from inevitable. Will we sit passive as the digital world replaces the real? Or as the real is placed under near-constant siege by out-of-control fires, floods, unbearable heat, unbearable human behaviours, and other cascading disasters? When there is noise all around us, can we still find the right sounds and messages to listen to? What is really "safe" about interfacing through a digital screen if the result is a critical loss of connection?   
These questions and concerns are reflected, however imperfectly, through this two-person exhibition – the creation of two artists struggling to make sense of and reconnect with the surreal times we are living in. Videos juxtaposed with luminous sculpture works draw us back to an extraordinary paradox that so many are living in: that while the real world and our responses to it is increasingly made digital, the physical body (our own, and of this fragile planet) is still crying out loud for deep, physical care and attention.   
Close your eyes. BREATHE. Feel your physical body; feel the long journey, sitting in the soils, the waters, the very bones and blood of our life-giving planet. Do you know the next steps to take, for where you wish to be headed? In a crumbling world of ever-spiralling chaos, one strategy, ancient as wind, offers a way to transform and repurpose these grim realities into something better: resistance, resilience, and reconnection.  
-Kai Reimer-Watts and Richard Watts
Artists' Biographies
Kai Reimer-Watts is a current PhD student in Community Psychology at Wilfrid Laurier University, graduate of the Master of Climate Change program at UW, and director of the feature documentary for climate action Beyond Crisis, "a story of hope for a rapidly changing world" (www.beyondcrisisfilm.com) along with numerous short videos on climate. Kai's research and creative work explores the rich intersection of climate storytelling, the visual arts, movement-building and grassroots activism, centering on the powerful role of 'signposts' in both unifying and mobilizing a collective response to our climate change emergency. At a local level, Kai was the student lead for the 'Climate is Life' mural project on Laurier's Waterloo campus, collaborating with local mural artist Pamela Rojas and engaging several hundred people from across Laurier in the mural's creation in Fall 2019. Kai was a contributing artist and community consultant for SPECTRUM in THEMUSEUM's ALARM exhibit, "responding to our climate emergency", which features work made and contributed by the broader regional movement for climate justice and continues to centre climate storytelling in short film works to support ongoing community dialogue and action.

Kai is an active member of the local movement for climate justice in Waterloo Region which has been leading regular strikes, art builds and creative actions for climate justice throughout the region; a leader on climate emergency campaigns locally resulting in successful declarations of climate emergency across five municipalities and the region in 2019, and is now building on these declarations as co-organizer of a region-wide campaign '50x30WR' to demand Waterloo region commit to a 50% reduction in community-wide GHG emissions by 2030, informed by both climate science and justice (www.50by30wr.ca). Kai is co-founder of The People's Climate Foundation and Climate Justice Laurier, advocating for bolder action for climate justice at Wilfrid Laurier University and beyond. Taken together, Kai's work explores the power of collective radical imagination in response to crisis, to resist climate injustice and forge a far brighter future. 

Portrait of the artist courtesy of animator-illustrator Abhilasha Dewan
Richard Watts is a land-based earth artist raised in the midwestern United States and on a family farm. Following his immigration to Toronto, Canada in 1987, Richard's art practice now remains based at a live/work barn Studio in the Canadian Shield in Southern Ontario, exploring both an inner spiritual connection to nature along with environmental and climate change issues (see www.richardwattssculpture.com). Richard's art practice is deeply material in nature, challenging the obsession with the digital that has overtaken Western culture by reclaiming a spiritual connection to materials and nature. Recent works include the "Earth Etchings" series – latex and gauze relief sculpture 'prints' or 'paintings' created from Canadian Shield rock faces, trees, vintage boats, and abandoned architecture (2008 – present). The boat forms, archetypes of collective and individual life cycles and journeys, also refer to the way the continent was originally traversed by Indigenous Peoples—in wood, bone, and skin crafts on the lake and river systems—as well as to the vehicles of European colonization and genocide. The forms also express current climate change population displacements and predictions of future mass migrations. The old growth tree forms are ancient world-symbols from which human culture evolved—cathedrals, or ships, both depended on them and classical columns and architectural proportions evolved from the old growth groves. With current climate change trajectories we will need many more old growth forests. The forms remind us to protect and nurture what remains.
Richard's work has received feature print and television coverage, along with solo exhibitions and commissions. In 2007, the site-specific "Ark" was installed under the Manhattan Bridge,   and a series of skeletal steel forms along Mission Creek, a salmon river, in Kelowna, British Columbia in 2006. In summer 2008 six cottage boats were altered live in front of Edmonton City Hall for The Works Festival, according to climate change themes, including a CBC presentation.  In 2012 the "Earth Etchings" were first shown at the MacLaren Art Centre in a solo exhibition called The Three Seasons, and in 2014 travelled to Two Rivers Gallery in Prince George, British Columbia, as well as the International Earth Art Exhibition in Hamilton, Ontario at the Royal Botanical Gardens. A solo survey exhibition took place at the Tom Thomson Museum in Owen Sound from June – Sept. 2019. Reconnection is a collaborative show with his son Kai – both father and son continue to work through their art practice to respond to our human-made ecological crisis, reconnecting ourselves to each other and the natural world that sustains us.
Portrait of the artist courtesy of animator-illustrator Abhilasha Dewan
Artist Interview
Signposts
Blast Wall
Blast Wall, 2008, 48.5" x 73"
Granite and quartz fragments, rust, vulcanized latex rubber, cheesecloth layers (to weave canvas), LED lightbox (to frame), embedded dried flora in crevice.

Made off a blast wall in Belmont Rose Granite Quarry, near Havelock, Ontario.
Wild Grape Vine Couple on Lath Wall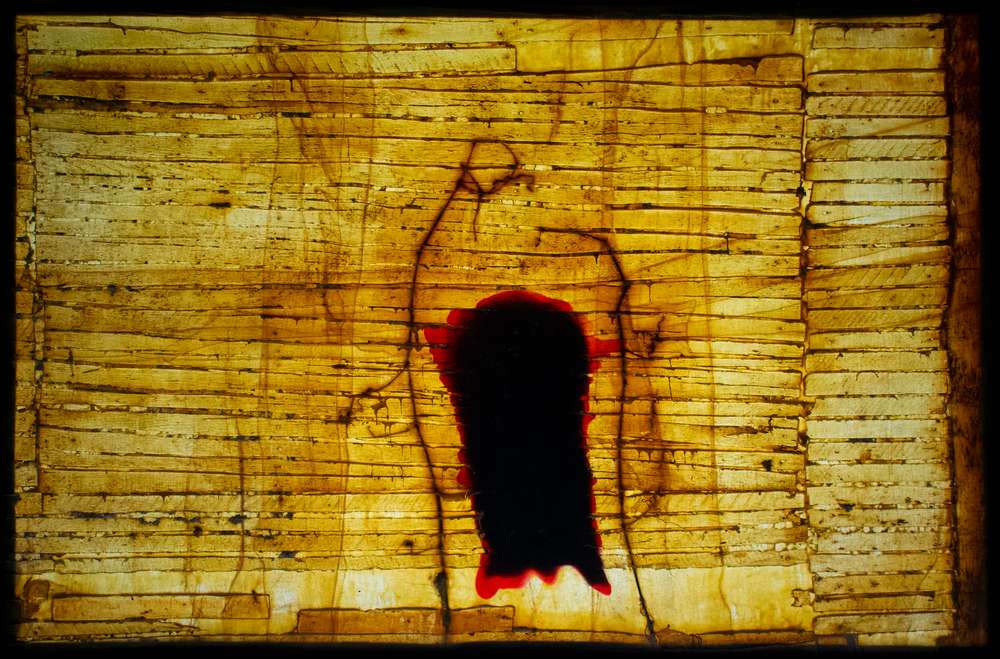 Wild Grape Vine Couple on Lath Wall, 2009, 50" x 75"
Vulcanized latex rubber and cheesecloth layers (to weave canvas), colour leached from tannins in lath strips on wall, rust dots from nails, wild grape vines, urethane resin, LED lightbox (to frame).
Made in the Mason House, an abandoned farmhouse near Havelock, Ontario.
Maple Tree Fork: Bison Spirit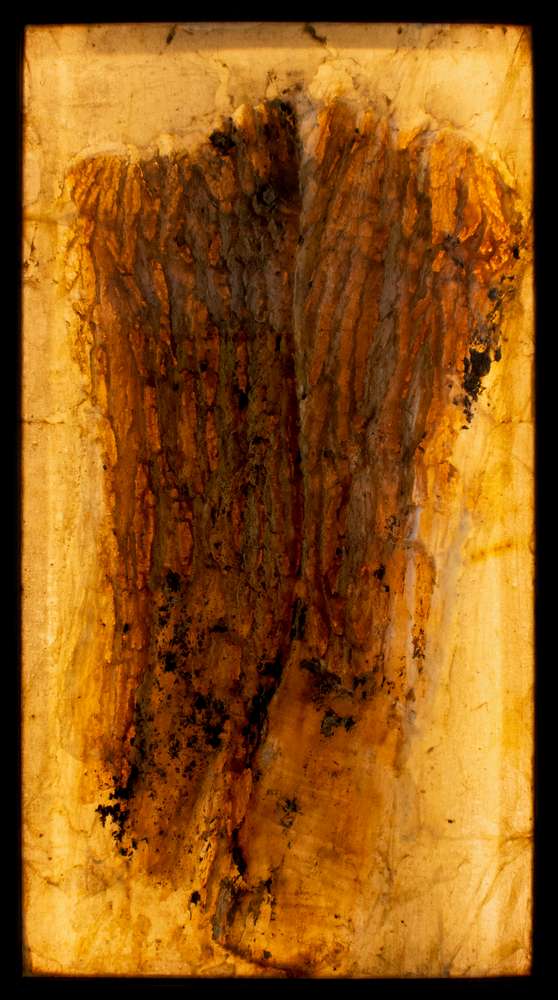 Maple Tree Fork: Bison Spirit (also a Torso), 2017, 32" x 57"
Fragments of maple bark, vulcanized latex rubber, cheesecloth layers (to weave canvas), LED lightbox (to frame).

Maple Tree: Horse Spirit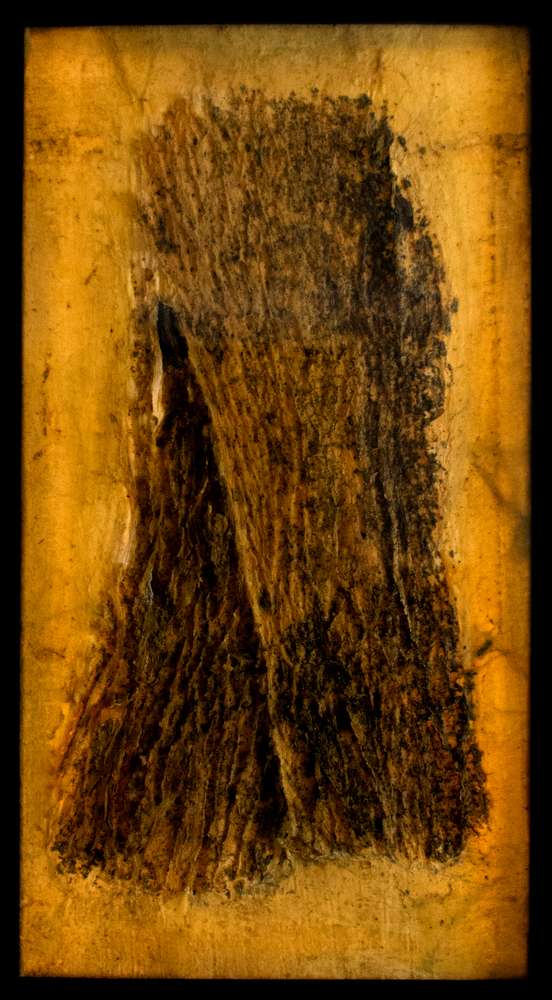 Maple Tree: Horse Spirit, 2017, 32" x 57"
Fragments of maple bark, colour from tannins in tree, vulcanized latex rubber, cheesecloth layers (to weave canvas), LED lightbox (to frame).
Canoe People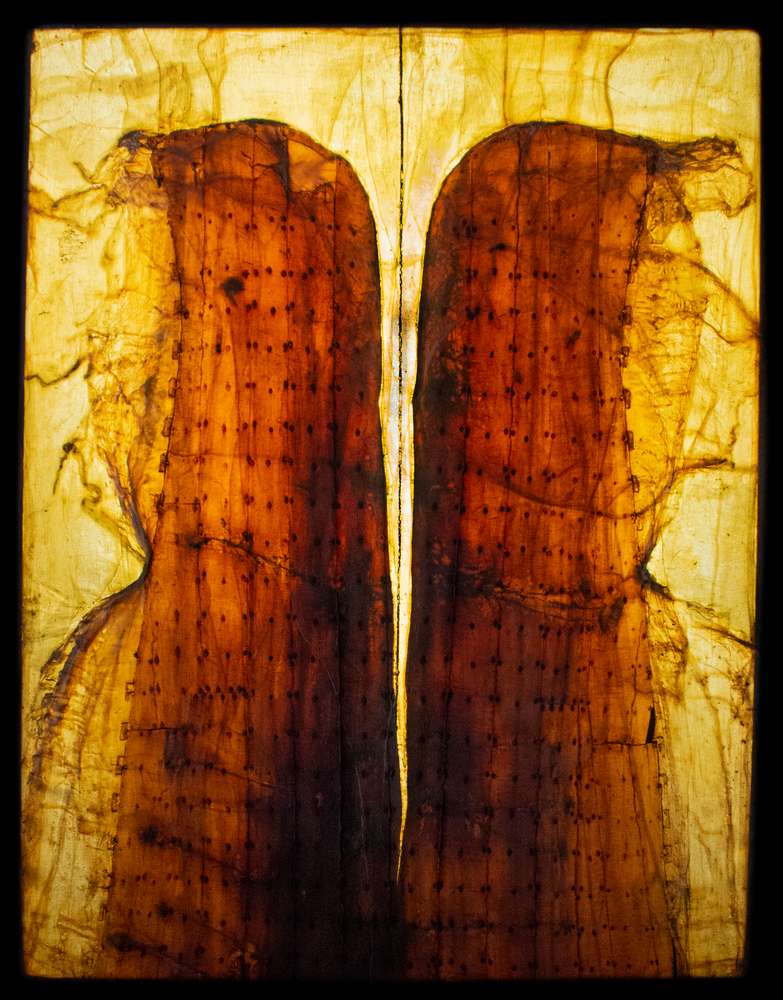 Canoe People I: Center Section, 2008, 51" x 82"
Vulcanized latex rubber, cheesecloth layers (to weave canvas), cedar strip tannins, embedded porcupine quills, dried flowers, fragments of canoe, dots from copper leached from rivets, LED lightbox (to frame).
Mason Boat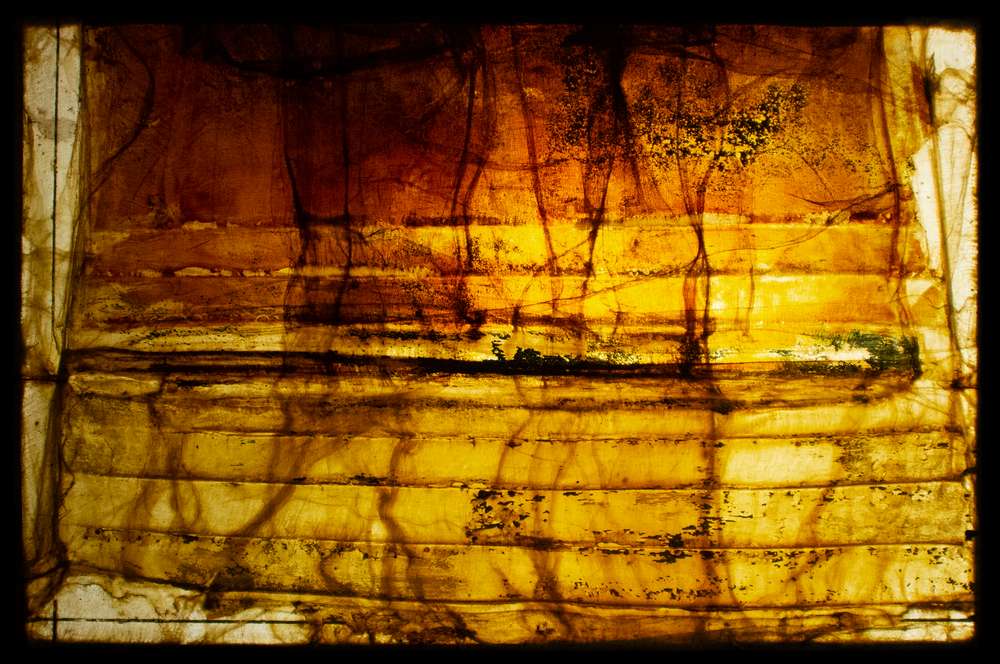 Mason Boat 1, 2013, 50" x 75"
Vulcanized latex rubber, cheesecloth layers (to weave canvas), paint embedded from hull of boat, LED lightbox (to frame).
This piece was made off an old Mason boat from Nova Scotia that I found near Havelock, Ontario. There seems to be a face in it like a fisherman heading home.
Surfacing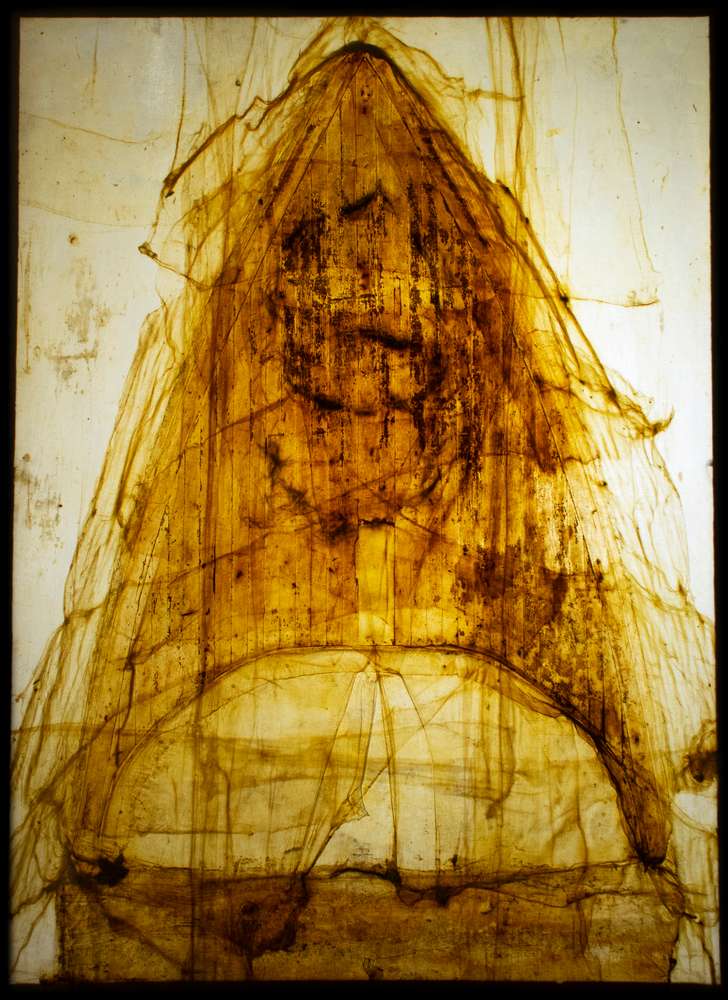 Surfacing, 2009, 71" x 95"
Vulcanized latex rubber, cheesecloth layers (to weave canvas), leaves and porcupine quills, impressions of old boat hull/paint from board, LED lightbox (to frame).
Made from the prow of a vintage Peterborough Lakeside.
Turtle Island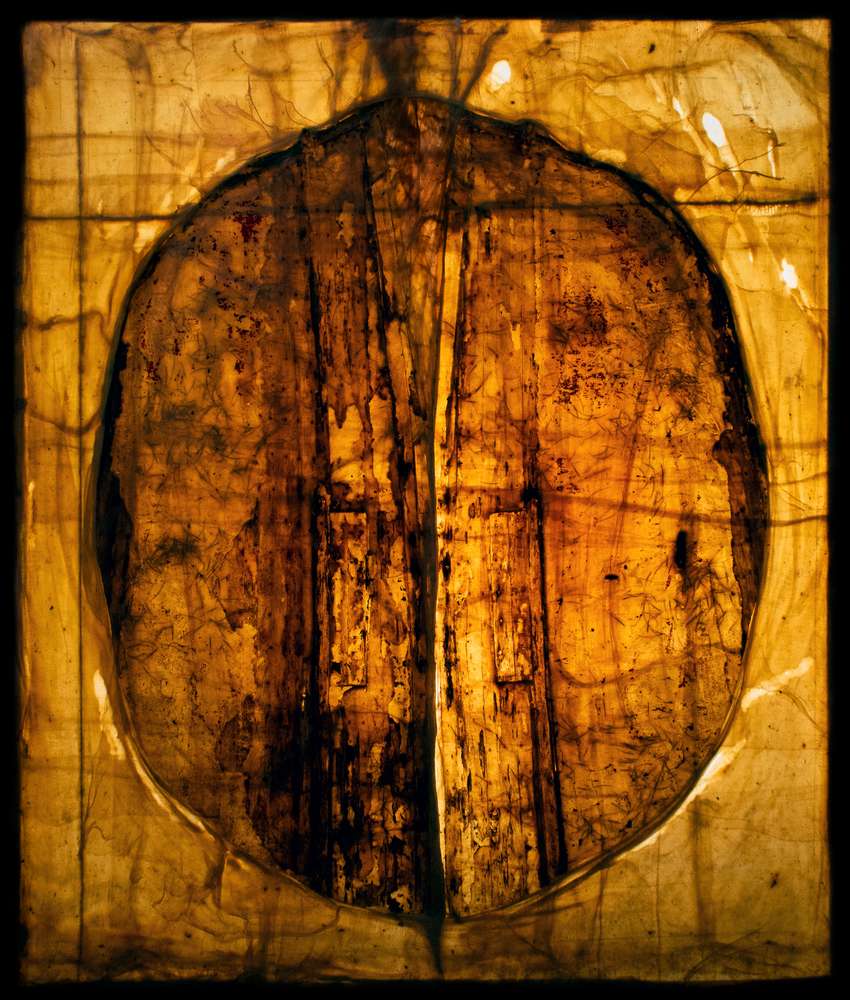 Turtle Island, 2009, 77" x 90"
Vulcanized latex rubber, cheesecloth layers (to weave canvas), fragments of paint and wood from old boat, LED lightbox (to frame).
This piece was made off of two sides of the prow of a vintage red rowboat found on Gold Lake, Ontario, in the Kawarthas,
Insect Writing on Cedar Tree (Cuneiform)
Insect Writing on Cedar Tree (Cuneiform), 2017, 31" x 78"
Artist Profile video
Cubicle People
Reconnection gratefully acknowledges the financial support of the Region of Waterloo Arts Fund