Feedback on the Mail on Demand service
Overview of the Mail on Demand Service
Laurier faculty, students, and staff can request items from the following circulating collections:

Laurier libraries at Waterloo, Kitchener, and Brantford campuses
The Annex
Libraries at the University of Guelph, the University of Waterloo, and other Ontario universities participating in Omni

You can place your requests in Omni (see the Requesting Items and Accessibility tab for instructions)
You can borrow items for 120 days with unlimited renewals
The Library will mail items to any Canadian address
The Library will provide you with a prepaid mailing label so you can return the books to the library by mail for free
You can return the items by dropping it off in a Canada Post mailbox
Who can use the Mail on Demand service?
Currently, the service is only available for Laurier students, faculty, and staff
It's not available to Alumni, Community Borrowers, or other users
What Items can be Mailed through Mail on Demand
The Laurier Library will mail most circulating materials from:

Laurier Library locations at Waterloo, Kitchener (Faculty of Social Work), Brantford, and Annex
University of Guelph and University of Waterloo
Other Ontario universities participating in Omni

See the Frequently Asked Questions tab for more information on which collections the service covers.
How Mail on Demand Works
Find and request your item through Omni (see Requesting Items and Accessibility tab)
When the library is ready to mail your item, you'll receive an email requesting a mailing address
The Library will mail your item once we receive your address
The mailed package will include a prepaid return label so you can return the item to us for free
Available and Unavailable Laurier Library Collections
The following Laurier Library collections are available to eligible Laurier users through the Mail on Demand service:
Campus
Available Collection
Waterloo

Books
DVDs / CDs
Film Studies DVDs (for Faculty)
Select government publications
Select Music ensemble collection items

Kitchener
Brantford
Annex
The following non-circulating / short-term circulating collections are not available as part of the Mail on Demand service:
Campus
Unavailable
Waterloo

Archival and special collections
Course readings (reserves)
Educational kits
Periodicals, journals, newspapers
Select government publications
Microfilm/microfiche
Reference collection

Kitchener

Course readings (reserves)
Periodicals, journals

Brantford

Course readings (reserves)
Library game collection (DLLC)

Affiliated Colleges

Indigenous Student Centre
Brantford Indigenous Student Centre
Centre for Military, Strategic & Disarmament Studies
How to Request Items through Mail on Demand
Place your request through Omni

See the Overview tab for information about which collections the service covers

Locate the item in Omni
Sign in using your Laurier single sign on (SSO) credentials
You will find the request option: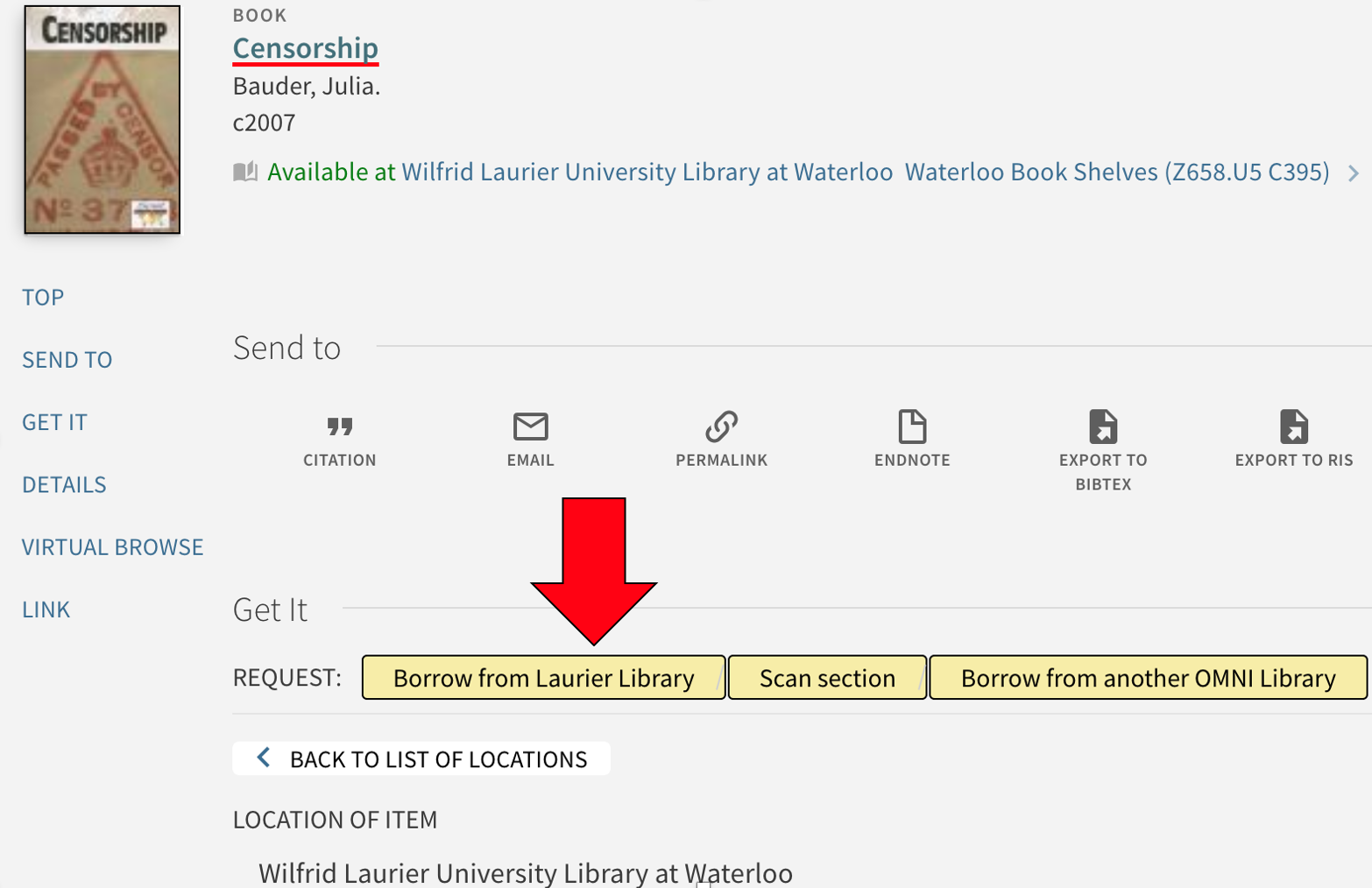 Select Mail on Demand under as a pickup location

If desired, add a Not Needed After Date or Comment
Submit the request
A confirmation message will be displayed
When the Library is ready to mail your item, we will email you for your address and mail you the item with a prepaid return label
Once your package arrives, keep the return label and the original packaging for reuse
Return your items by dropping the package off at a Canada Post mailbox or postal office
Accessibility for Users with Disabilities
If you have a disability and have questions or need accommodations, please contact the library service desk
You can reach us at infouser@wlu.ca or chat with us using the online Ask Us chat box during operating hours
1. How can I give feedback on Mail on Demand
2. Is there a limit to where the Library will mail items?
Mail on Demand delivers to any Canadian address
3. How long will my item take to arrive?
Due to required COVID-19-based procedures, we cannot provide an estimate on delivery times
We'll mail your item as soon as possible following receipt of your mailing address
4. Do I have to pay for return shipping?
No. Return mailing costs will be covered by the Library
5. How do I return an item?
You will receive a prepaid mailing label to return the item to the Laurier Library
Save the packaging that came with your item
Attach the return label and drop the package off at a Canada Post mailbox
6. Can I return other items on loan using the Mail on Demand service package?
No. Costs for items requested through Mail on Demand are calculated at the time of mailing and only these items can be returned using the original packaging and return label
If you have other items you'd like to return to the Laurier Library please contact wlucirc@wlu.ca for assistance
7. How can the Library adjust the Mail on Demand service if you have a disability?
If you have a disability and require some adjustment to this service, contact library staff
If you are a student with a disability and require a library book in an alternate format, email the library's accessibility staff to discuss your needs and options