Face Value
The art of portraiture as evolved through time and art movements, from depictions of true physical likeness into a deeper capture of the inner essence of the subject. Today the flattery of beauty and status has taken a back seat to the artistic interest in the human condition. Artist like Francis Bacon, Lucian Freud, Elizabeth Peyton and Jordan Casteel have helped to push contemporary portraiture into a more compellingly characterization. Where human expressions of vulnerability, angst and inner strength give way to a more truthful portrait.
Face Value artists Sherry Czekus, Lynne Gaetz and Steven Restnago push the boundaries of the figurative art form to introduce viewers to the complexities of human interaction, female empowerment and questions surrounding sexual identity. The diversity of each art practice and execution brings a fresh outlook on how we see the beauty of portraiture.
Suzanne Luke
Curator, Robert Langen Art Gallery
Sherry Czekus
Artists Biography
Sherry Czekus is a Canadian painter based in Waterloo, ON, who completed her MFA at University of Western Ontario in London, Ontario. She holds a Bachelor of Arts with Fine Art Studio Specialization from University of Waterloo. She has exhibited her work in private and public art galleries in Canada and the United States. The public domain, specifically the city, is a site of observation of urban crowd culture and its participants that Czekus explores through painting.
Artist's Statement
The rise of urban culture was a social phenomenon in 19th Europe where people took to the sidewalks of the city as a way to see and be seen, interacting and socializing publicly. My paintings, mediated through my photographic urban experience, aim to portray the urban crowd as a single entity. Abstracted segments of the figures and patterns on clothing dominate the shallow space in the paintings that attempt to illustrate the visual perception of the everyday experience of city life. The paintings conceal the identities of the individual figures caught in the scene in an effort to expose the identity of the crowd at large.
During the past months, the pandemic situation has had an upending affect on society globally. The urban crowd has become a health threat unto itself. Its members have been socially distanced and shut inside. The view through the COVID-19 lens reveals a physical and psychological fragmented crowd as it disengages for the sake of the individual. The suggested physical spacing that separates the crowd from itself has become a rhythmic trope of the pandemic event. 'Series of Disengagements' portrays the crowd on city streets as it strives to exist through the act of disengagement amidst the current health crisis.
Series of Disengagements
Series of Disengagements, 2020, oil on canvas, 48 x 48
Artist's Video
Lynne Gaetz
Artist's Biography
Lynne Gaetz is a visual artist based in Cambridge, Ontario. Many different elements have contributed to her artistic direction: She has studied art at universities in Calgary, Montreal, and in Shantiniketan, India. Additionally, her travels to places such as Mexico, Turkey, Kenya, Morocco, and Chile have influenced her colour palette. She continues to learn, taking workshops, conversing with other artists, and challenging herself to risk new directions. Her mainly figurative work, executed in oils and acrylics, often contains elements of collage as well as gold or silver leaf. She has exhibited in galleries in Alberta, Quebec, and Ontario, and her work is in several private collections. A recipient of several awards, she most recently won "best of show" at The Cambridge Centre for the Arts annual juried show.
Artist's Statement
In my figurative paintings, I sometimes work from photographs, but often an idea arises while I am doing the acrylic underpainting. My decision to integrate mixed media into the work began by accident. About two years ago, while painting a falling buffalo, I spontaneously decided to adhere torn images and gold leaf to the horns. Since then, I have added mystical and surreal elements to my figurative work, incorporating horns, antlers, and tree branches to the heads of figures. I also may include collage in their bodies. There are also words and bits of text integrated into the paintings. I am often asked, "Why do the figures have horns or antlers?" Each piece has an overall mood or emotion or underlying tension. The horns or antlers may represent strength, fertility, sexuality, creativity, and a connection with nature and our animal instincts. But I invite you to view the pieces and come to your own conclusions. What do the words and messages suggest? What overall feeling does the work inspire in you?
The Shadow Selves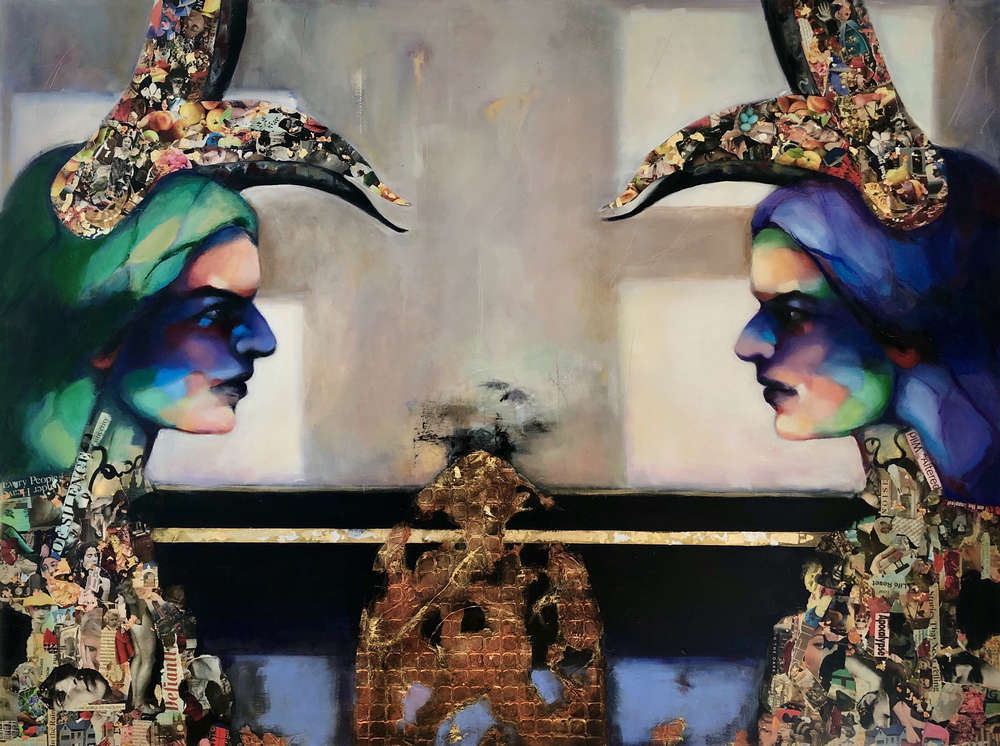 The Shadow Selves, 2020, mixed media, 36 x 48
Artist's Video
Steven Restagno
Artist's Biography
Steven Restagno is a multidisciplinary artist based in Waterloo, Ontario with a Bachelor of Arts from the the University of Waterloo. His work often focuses on queer experiences through painting, photography, video and installation.
Artist's Statement
When it comes to painting, the nude body carries a lot of baggage. It's been sexualized, sanctified, made passive and idealistic, and used for both protest and pornography. Coming from a queer perspective, I'm interested in using the body to explore questions of sexuality and identity.
I started this series by photographing people underwater, distorted through flexible mirrors and with long exposures. Riffing off of abstractions from the photos, I made paintings on unprimed linen, stained with heavily diluted oil paints. The results are people hidden and misshapen through process, made vulnerable and strange. These ambiguities serve as a way for me to consider the relationship between the body, desire and otherness.
Solus#2
Solus #2, 2018, oil on linen, 36 x 48
Artist's Video